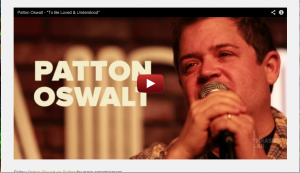 I am seriously fascinated by comedy. I am not alone in being afflicted with a love of humor to the point of very unfunny over-analysis. I'm sure there are others out there who wonder about what's so funny about funny, and how come Funny blossoms from the shit of Sad. I've been lucky to meet some of these people, connoisseurs and nerds,  and have learned so much from them. I haven't met Patton Oswalt, but two of my friends have, and they made a beautiful 10 minute film profile of him, called "To Be Loved and Understood." Click here and watch it. Then come back and read the rest.
It is kinda funny that the one thing that makes you maybe more perceptive, and maybe more funny, also makes you much more vulnerable and thus not as successful as a human being in so many ways. — Patton Oswalt
Once, I got to ask James Hillman why not enough has been written on Soul in comedy. While I asked him this sincere question, John Cleese was sitting in the same audience I was. I was pretending to not know this, hoping to impress the Python, to provoke something amazing to happen, maybe an impromptu skit-jam by which we would murder the crowd, together — John Cleese, Jim Hillman, and me… Hillman's head darted to Mr. Cleese, who sat impassive, lost in his own space/time oasis, pondering fine wines, or maybe locked in a depressive fugue. The great depth psychologist drily answered me what I already knew — that writing seriously about humor is too difficult, just doesn't work, takes all the fun out of it… The moment passed, nobody laughed. I wasn't hoisted up on anyone's shoulders, I sat back down, just the way most of life goes.
I have found a way to try and make sense of my life in a way that makes people laugh and gets me attention and makes me feel better about myself...There could not be a more basic human need right there: to be loved and understood… And I just try and recreate it again and again.    — Patton Oswalt
It's not a revolutionary idea that comic genius is often borne of pain, sadness, feeling lame, getting revenge, etc. There's an endless number of examples of comics and comedians who embody this. I'm not going to make a full roll-call here, because that story can sometimes lead to very sad and depressing stories that end in suicide or in Nutty Professor movies.
What's become clear is that many comics and comedians working today wear their depression or anxiety on their sleeves. Yet, some don't or can't. Seinfeld doesn't do that so well.  Will Ferrell (from Irvine) is reputedly very straight, un-weird and happy in real life. Sarah Silverman's not depressed dark, but she did grow up as a bedwetter. Tig Nataro is a heroic cancer (and family) survivor and her champion Louis CK is everyone's favorite cuddly curmudgeon.  Mark Marron is making anxiety and depression his whole thing, even playing therapist parlor games with anyone down for a Naked Lunch. There was an article in the LA Times a few years back about how the Laugh Factory put on its payroll an on-call psychotherapist to be available for the comics who worked there; Paul Rodriguez was interviewed for that article. ******** The man of the hour today is Patton Oswalt, who lays down some serious science in the film "To Be Loved and Understood." Watch it to see how Julien Nitzberg badgers and bullies him to cry in his hotel room, and regret making the film, which is beautifully shot by Ross Harris. (Just kidding, Julien).
It's very comforting for me to try and look at these terrible decisions I make…the profound limits of my intelligence and empathy and then try to relate it to a much bigger thing in life and maybe not feel so alone.  That maybe you'll go "It's not just me doing this, it's a whole giant human reason that this thing is going down."       — Patton Oswalt